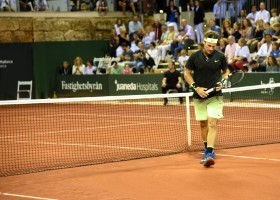 After last year's success, Palma Sport & Tennis Club proudly presents Legends Cup, an ATP Champions Tour event. This year the event will take place from October 4th – October 07th.

This is a great event for all tennis lovers on the island to watch and enjoy their idols play again; Juan Carlos Ferrero, Fernando González, Mats Wilander, Carlos Moyá, Tim Henman, Henri Leconte, Álex Corretja, Thomas Enqvist and Mikael Pernfors.

To take part in an ATP Champions Tour event the players must have been either a World Number One, a finalist in a Grand Slam, or a singles player on a Davis Cup winning team and retired from the ATP Circuit. Six tennis players are divided in two groups competing against each other in a round robin format, ensuring that all players feature in at least three matches. All the games will be played as best of three sets.
Legends Cup is a not only about tennis, it is also a gastronomic experience where you will be able to try some of Majorca's best restaurants in a relaxed and cosy village area.
Enjoy four days of high-level tennis, a great atmosphere and lots of fun for the whole family!
The THURM Concept Team wishes you both exciting and entertaining games!