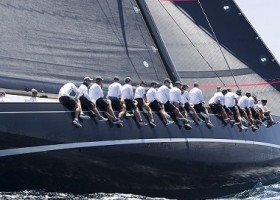 Some of the largest and most impressive sailing ships in the world can be seen this week from 19.06.-22.06.2019 in the port of Palma. The Superyacht Cup has been held here for the 23rd time since 1996 and allows yachts with a minimum length of 24 meters to take off for the regatta. 14 impressive examples of nautical design and technology are exhibited, ranging from the 52 meter schooner Meteor to the classic Stay Calm, a 24.9-meter Nautor swan range. This year, two former winners will be present, the venerable Velsheda, a Class J of 1933, who returns to defend the title of 2018 and the Lightweight Win Win Carbon Flyer, a design by Baltic Yachts to repeat the former victory of 2016. The effectiveness of the Offshore Racing Congress Superyacht Rule (ORCsy) compensation system is crucial to this and contributes to the ability to compete.
This year sees the launch of several state-of-the-art and powerful yachts, all of which are eligible for victory. Among the participants is Topaz, who will try to win the title of the class J champion from Velsheda. The competition between Nilaya, Missy, Open Season and Child of Lir in the range of 30 to 34 meters in length will also be very controversial. For their part, the debutants of the Superyacht Cup Palma, Kealoha and Huckleberry will try to make a name for themselves here, as will the classically modern ones Tulip and the traditional spirit Bequia.
The regattas can be visited at the old pier in a closed off zone and are also open to the public from Saturday, 22 June from 09:00 to 13:00. To date this year's edition of the largest regatta in Europe, there are 20 boats registered and will start on June 20, 21 and 22 at 13:00 each. The event will start with the Pantaenius Regatta on Thursday, June 20th.

A worthwhile visit for all lovers of the nautical industry.

Further information can be found here.