STAR PRESS MEDIA NIGHT - MALLORCA 2019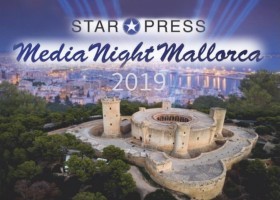 As part of the event "Media Night Mallorca", the Berlin-based photo agency "Star Press" has rolled out the red carpet for the glamorous event with celebrities from the TV and media industry for the third time. Thanks to the organizers Kay Kirchwitz and Andreas Hug, guests can look forward to the fantastic location at the Castell de Bellver Castle on September 14th for this year's Media Night on Mallorca.

Among the 500 invited international guests, about 20 celebrities from the film, TV and media industries are expected. In the presence of German and Spanish companies, agencies, fashion designers and artists, the high-class event becomes a networking of the superlative. With corporate and product presentations in the lifestyle sector and a fashion show in conjunction with Mallorcan designers, the focus this year is on "seeing and being seen" and takes place in view of the Spanish-German cooperation for the first time with Spanish cooperation partners. In addition to the numerous Majorcan sponsors, luxury car manufacturer "Lamborghini" enriches the evening with 400 bottles of champagne. Musically demanding, the "Orquestra Palma", as well as the solo artists Nick Ferretti and Dennis Mansfeld accompany the evening brilliantly.

As official cooperation partner and sponsor of the "STAR PRESS MEDIA NIGHT 2019", we are pleased to be able to honor the evening with a specially selected collection of Thurm luxury cars.

Start is at 20:00 clock and ends at 02:00 clock, then continues to be celebrated in the disco "Titos".
Admission only by invitation.
If interested, please contact starpress@hugster67.com.
---
Developed by © THURM CONCEPT