Sponsor of the Copa del Rey 2017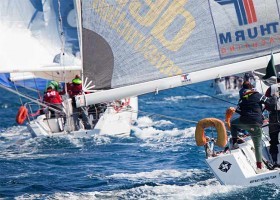 Thurm Concept S.L. was again a proud sponsor oft the Copy del Rey 2017 and invited numerous VIP guests, who had the unique opportunity to observe and experience the sailing regatta from our own luxurious motor yacht. Some 1.500 sailors from 22 different nations participated in the Copa del Rey organized by the Real Club Nautico de Palma de Mallorca. King Felipe of Spain in person handed over the trophies at the victory ceremony.

In an exclusively built-up room, our visitors informed themselves via a huge video screen about the special services of Thurm Concept S.L. Our displayed flyers were out of stock in a heartbeat. While having a breathtaking view on the luxurious harbor, our exclusive VIP guests indulged in live music, champagne and canapés and relaxingly enjoyed the sound of the waves caused by the returning sailing yachts of the race.
We thank our numerous charming guests for unforgettable evenings!
---
Developed by © THURM CONCEPT