Primavera de Palma- Patio Concerts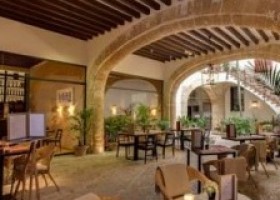 As part of the patio concerts, the courtyards of famous townhouses in Palma open their doors to visitors. The series of events invites to 21 June with music concerts in various places in Palma and this time includes the beautiful courtyards of famous townhouses as a stage. Among the venues are the Sa Nostra Cultural Center, Paseo de Born and Plaza Mercat. In Can Balaguer Manor, you can now hear Australian singer-songwriter Emily Barker mixing soul and blues.
The next concerts will take place on 25 May at the Center de Cultura Sa Nostra with the singer-songwriter Maria Rodés and on 28 May in the patio of the Chamber of Architects with the cello duo Gamma. Start is at 19:30.
Free tickets can be obtained directly at the venue from one hour before the concert starts, however it is recommended that you get tickets in advance due to the popularity of the event. Issuance is at the Teatre Mar i Terra, Tuesdays to Fridays from 16:30 to 21:30 and in the Center Maimó Ben Faraig, Thursdays and Fridays from 9:30 to 13:32. There are a maximum of 2 tickets per person.
Do not miss the challenging concert series in Palma's prestigious patios.
Developed by © THURM CONCEPT