The gorge of Torrent de Pareis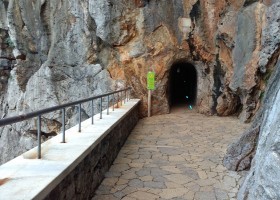 A magical and very calming place for hikers, climbers and at the same time a well-known location for movies like "Cloud Atlas" from the coen brothers.

In the middle of the Serra Tramuntana, near the small town of Sa Calobra, lies the legendary canyon of Torrent de Pareis.
A magnificent mountain scenery and adventurous hiking trails make this place a special experience for everyone.

On the footpath on the beautiful beach of Port de Sa Calobra, a pedestrian tunnel leads into the middle of a mountain. Overall, you cross two
Pedestrian tunnel with illuminated walkways, which then lead to the gigantic gorge.
After a few minutes you will reach a large riverbed, surrounded by gigantic rock formations with caves that rise up to 150 m and a natural beauty.

On the streambed, which is paved with pebbles, there is the gate of Torent de Pareis, a rock opening to the open sea.
Along the gorge mouth you reach the narrowest passage of the canyon, from where the continuation of the hike is only recommended for experienced mountaineers.

The Torrent de Pareis is the second largest erosion gorge in southern Europe after the Samaria Gorge on Crete and thus an outstanding natural wonder on the island.
The ride is really worthwhile and worth a visit even in winter.
---
Developed by © THURM CONCEPT