Andalusian folk festival in Mallorca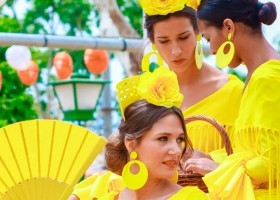 One of the biggest folk festivals in the world is celebrated this weekend in Alcúdia in the north of Majorca and also in Inca in the center of the island. Originally, the "Feria de Abril" comes from Seville, where every year is celebrated with Andalusian specialties, music and flamenco dances. Of course you get a little smack from here on the island.
In Alcúdia, the festival area is located in the city center, on Calle Pollentia, and will open today at 18:00, where it will be celebrated until Sunday. The Feria de Abril will be held in Inca at the Cuartel General Luque Exhibition Center with the opening at 20:00 today and tomorrow. A unique atmosphere of Andalusian style with great artists should not be missed.

The full program for the Feria de Abril in Alcudia can be found here.
Developed by © THURM CONCEPT